Our restaurant offers you a variety of selected dishes. As a starter, choose a tasty scampi skewer or perhaps a Greek farmer's salad.
As a main course you have the choice between freshfish dishes, meat dishes from pot and pan, our well-known Greek specialities or you decide for the recommendation of our chef. Enjoy browsing the Selliner Hof menu.
We will be happy to accept your table reservation, simply contact us on our telephone number 038303/129229.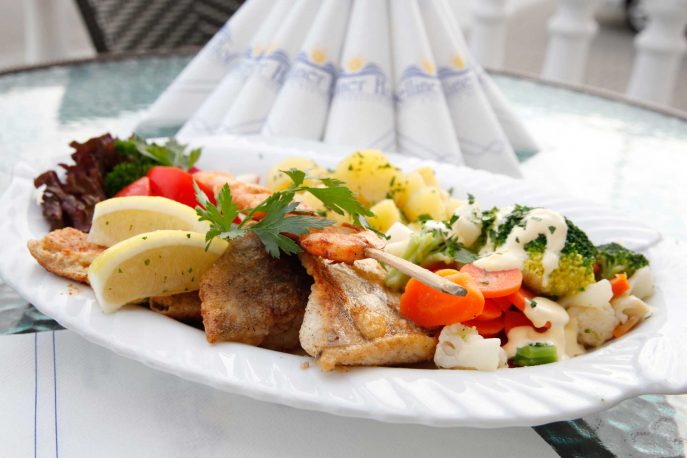 After a week's vacation we had a really tasty meal here. I'd call the restaurant an insider tip in Sellin. The owner family is Greek. The menu includes both Greek and German dishes. We both had the Acropolis plate and this one was great. Pork steak, bifteki and gyros super tender. The starter salad was also tasted 1a. Furthermore the service was very nice and attentive. The next time we come to Rügen, we will eat here again.
Julia W. at yelp.de
We did a Greek night with two kids. almost all seats were occupied by many guests in the house. Food was visibly good, rich, well seasoned and the price reasonable good. To recommend the Greek appetizer plate which is loosely enough for 2 people. We'll be happy to return. They also have German cuisine thanks to the German/Greek couple.
Stephan K. at google.de
Very good Greek cuisine at a fair price. No long waiting time and good memory card.
Sven F. at google.de
appetizers
tomatoes and mozzarella | 6,00 €
With balsamic vinegar, olive oil, herbs and toast
Scampi Skewers | €6.00
Light garlic sauce, lemon and toast
Baked Camembert | €6.00
With Cranberries and toast
From the soup pot. . .
Cream of tomato soup | €3.50
with croutons
Rügen fish Soup | €5.50
With tender fish fillet and herbs
Chicken Soup | €3.50
With fine vegetables, threaded noodles and poultry meat as a deposit
Gulaschsuppe | €3.50
Hearty and spicy
Salad variations
white Cabbage Salad | €2.50
With carrots, made with vinegar and oil
tomatoes and cucumber salad | €3.50
with onion vinegar and oil
Small Salad Platter | €3.50
Iceberg, white cabbage salad, tomato and cucumber, with homemade dressing
Greek farmer's salad | €9.50
tomatoes, cucumbers, lettuce with olive oil, shepherd's cheese, hot peppers and olives, pita
Large Salad Platter | €9.00
With Tuna and toast
Large Salad Platter | €12.00
With grilled turkey breast strips and toast
Salad Plate "Scampi" | €12.00
Large Salad platter with scampi skewers, garlic sauce and toast
casseroles
Nudel-Schinken-Auflauf | 9,50 €
Baked with cooked ham, tomatoes and cheese
vegetable casserole with potatoes | €9.50
Various vegetables on potato bed with cream sauce, fresh herbs and cheese baked
Here it tastes like the sea. . .
maties filet by housewives art * | €9.50
cream sauce with onions, apples and pickled cucumber, roast potatoes and salad platter
Small fish Platter | €11.50
Fried fillet and cod fillet, with parsley potatoes and salad plate
Cod fillet | €12.50
Fried, on spinach leaves with parsley potatoes and salad platter
Small and fine * | €13.50
Plaice fillet and Scampispieß with broccoli, SC. Hollandaise and parsley potatoes, salad platter
Plaice Filet "Finkenwerder Art" | €15.00
With fried bacon, fried potatoes and salad platter
Greenline Plate | €15.50
Salmon fillet fried in almond crust, with broccoli, tomato rice and salad platter
Fish Plate "Sellin Hof" * | €17.00
Three of fish fried, with Scampispieß, various vegetables and SC. Hollandaise, parsley potatoes and salad platter
Pike perch Fillet | €15.00
Fried, with herb sauce and cherry tomatoes, on green ribbon noodles, with salad plates
Fish Platter for 2 persons * | €35.00
Three of fish fried, with Scampispießen, various vegetables and SC. Hollandaise, parsley potatoes and salad platter
Surcharge per additional person €17.50
Meat dishes made of pot and pan
chicken breast Fillet | €11.50
Fried in egg, with butter peas and croquettes, salad platter
Turkey Steaks | €11.50
Fried, with broccoli, SC. Hollandaise, croquettes and salad plates
Pork Schnitzel "Wiener Art" | €11.00
With French fries and salad Platter
Pork Schnitzel "Hunter Art" * | €13.00
With French fries and salad Platter
Pork Schnitzel "Gypsy Art" * | €13.00
With French fries and salad Platter
pork Loin Steak | €14.50
With fried mushrooms and onions with french fries and salad Platter
For the small appetite
Folienkartoffel | 4,50 €
With Zaziki or herb curd
Gourmet Cuts | €7.00
Fried cod fillet, toast and salad, rémoulade sauce
Potato Wedges | €4.50
vigorously spiced, with herb curd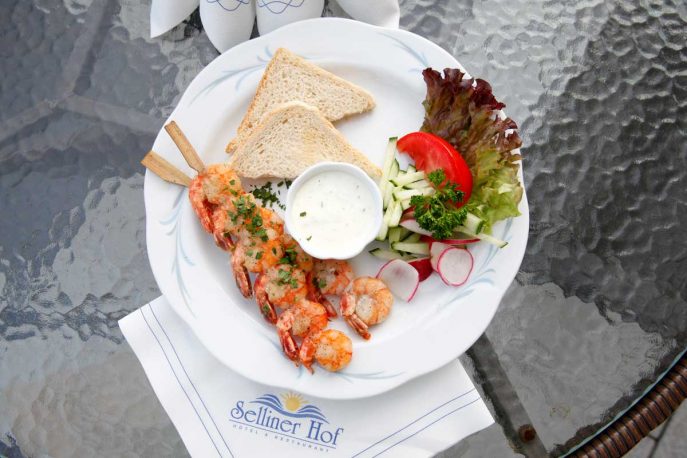 Recommendation of our Chef
Rumpsteak (medium) | €19.50
With herb butter, foil potato with Zaziki or herb curd and salad platter
Rumpsteak "Madagascar" | €21.50
At cream sauce with green pepper and french fries, salad Platter
Pork Fillets | €16.50
Small medallions grilled, with all sorts of vegetables, croquettes and salad plates
Lamb Meat | €17.50
Stewed lamb meat in thyme-jus, with green beans, potatoes and shepherd cheese
Appetizers
Zaziki | €4.00
Curd, fresh cucumber, oil, vinegar and garlic
olives and hot peppers | €3.50
With Pita
Greek vine leaves | €4.50
Filled with spicy rice
Gigandes | €4.50
Greek giant beans in Tomatesoße
Shepherd's Cheese | €4.50
portion of Shepherd's cheese garnished
Eggplant | €5.50
in tomato sauce, baked with shepherd cheese
Shepherd's Cheese baking | €5.50
With Pita and garnish
Meses | €12.50
Greek appetizer Plate (for 2 or more persons)
From Grill and Pan
Baked Potatoes | €5.00
Baked with Metaxa sauce and cheese
Gyros | €11.50
Sliced meat from spit, with Zaziki, rice or french fries and salad Platter
Souwlaki | €11.50
2 meat skewers with Zaziki, rice or french fries and salad Platter
Farmer Skewers | €12.50
4 meat skewers on wood with Zaziki, rice or french fries and salad Platter
Larissa Teller | €13.50
Gyros, 1 Souwlakispieß, with Zaziki, rice or french fries and salad Platter
Acropolis Plate | €13.50
1 beefsteak, 1 pork steak, gyros with Zaziki, rice or french fries and salad Platter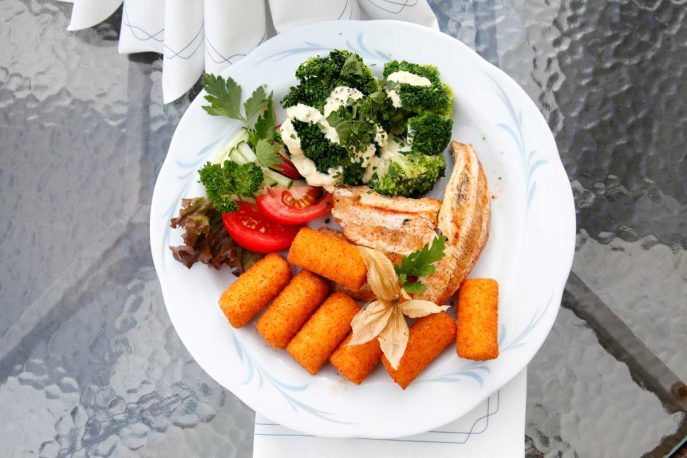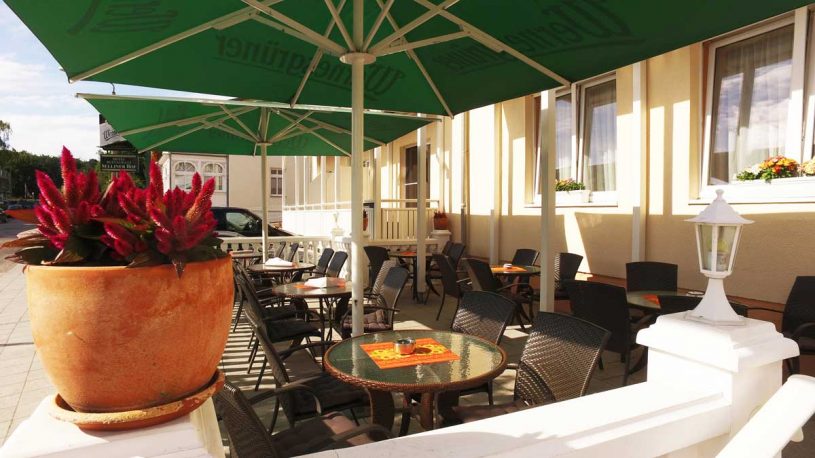 From Grill and Pan
gyros over baking | €15.00
with mushrooms, Metaxa sauce and Edam, Zaziki, rice or french fries and salad Platter
Souwlaki Baking | €14.00
2 meat skewers with shepherd cheese baked with Zaziki, rice or french fries and salad Platter
Gourmet Pans | €13.50
Pork steaks with paprika and edam baked, with white wine seasoned, with Zaziki, rice or french fries and salad Platter
beefsteak misto · €13.50
A burger filled with shepherd's cheese, with Zaziki, rice or french fries and salad Platter
Fileto | €15.00
1 pork fillet, with Zaziki, rice or french fries and salad Platter
Fileto Baking | €17.00
Fillet of pork with Metaxa sauce, with Zaziki, rice or french fries and salad Platter
Broccoli-Pans | €17.50
Grilled pork fillet, baked with broccoli, Metaxa sauce and cheese, Zaziki, rice or french fries and salad Platter
Lamb Chops | €15.50
Serving of lamb chops with Zaziki, rice or french fries and salad Platter
Olympteller | €17.00
1 Souwlaki, 1 beefsteak, 1 pork steak, 1 lamb chop, gyros, Zaziki, rice or french fries and salad Platter
Grill Plate | €14.50
1 Souwlaki, 1 beefsteak, gyros with Zaziki, rice or french fries and salad Platter
Greek Meat Platter | €35.00
For 2 or more people
2 Souwlaki, 2 beefsteak, 2 lamb chops and gyros with Zaziki, rice or french fries and salad Platter